It's been a while since I've completed a 30 for 30 challenge. I've got a few holidays coming up where I can wear casual rather than work clothes so I thought this was a great time to start!
Recently I've been feeling a little disillusioned with my blog. A run of busy events at work plus not having a decent camera to hand has meant that my outfit posts have been sporadic at best but as long as you lot don't mind self-taken pics on days I'm at work then it's all good.
Follow the link for a full explanation of
30 for 30
.
This time I've chosen 28 items of clothing and allowed myself two wild cards - mainly because of this changeable British weather but also because I'm bound to get bored with my 28 items. As with previous 30 for 30 challenges there will also be a spending ban in place. I haven't managed to stick to this in my last two attempts but I must do it this time!
So here are my items: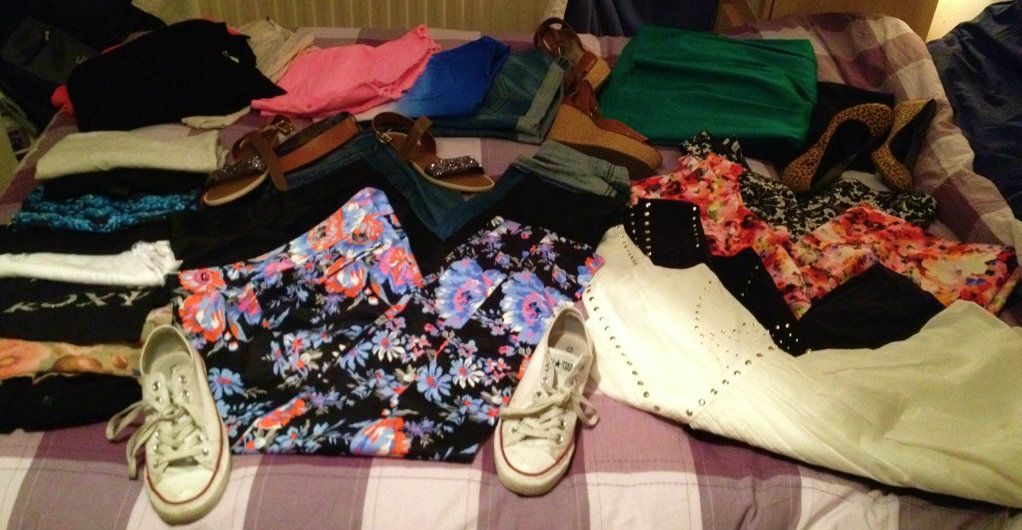 Tops
Roxy Music vest - Primark, black ribbon vest - Topshop, chiffon top - F21, black and white tee's - New Look, white cotton top - River Island, Flower print tee - Mary Katrantzou for Topshop, Black chiffon shirt - F21
Bottoms
Floral trousers - ASOS, Straight jeans -GAP, black cropped trousers - Oasis, green skirt - ASOS, black skirt - GAP, pink shorts - Topshop, dip dye shorts and denim shorts - both H&M
Dresses
Lace print - Dorothy Perkins, Floral print - TK Maxx, black and cream studded dresses - both Oasis
Cardi's
Black and cream long cardigans - both New Look, coral cardigan - Zara
Shoes
Glitter flats - Carvela, Peep toe wedges - Nine West (not pictured), leopard heels - Banana Republic, tan wedges - M&S, white trainers - Converse
Wish me luck and let me know if you're doing or have done a 30 for 30 recently, I'd love to get more remix inspiration!